Taylor Swift has spoken out about the Supreme Court's decision to overturn Roe v. Wade on Friday. The singer expressed her disappointment with the court's decision to deprive women of their right to abortion access by retweeting a letter from Michelle Obama.
"I'm absolutely terrified that this is where we are," she wrote. "That after decades of people fighting for women's rights to their own bodies, today's decision has taken that away from us."
Taylor Swift shared an Obama-written letter in which the former First Lady expressed her "heartbreak" over the Supreme Court's "horrifying" decision, adding that it will have "devastating consequences" for those affected.
"I am heartbroken that we may now be doomed to repeat the painful lessons of the time before Roe v. Wade — a time when women risked their lives to obtain illegal abortions," Obama wrote. "A time when the government denied women control over their reproductive functions, coerced them into having unwanted pregnancies, and then abandoned them once their children were born."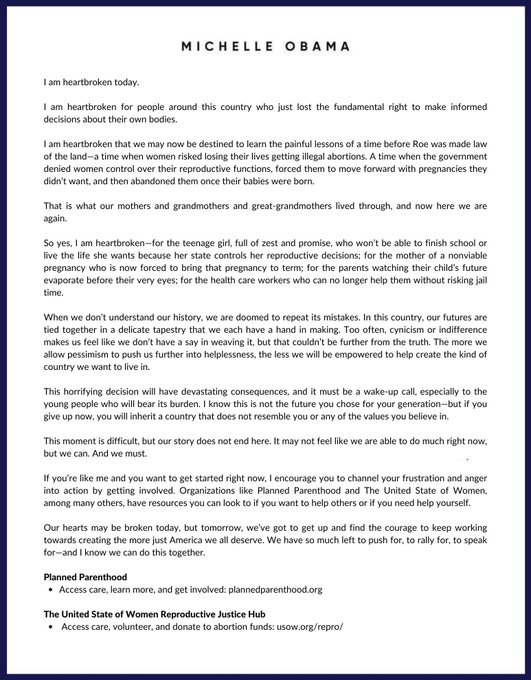 Before performing her song "Your Power," Billie Eilish also used her headlining Glastonbury set to address the Supreme Court ruling. "The song we're about to do is, I think, one of the favorites that we've written and it's about the concept of power and how we need to always remember how not to abuse it," she said. "And today is a really, really dark day for women in the US. I'm just going to say that  I cannot bear to think about it any longer at this moment."
Meanwhile, John Legend posted a video of police officers dressed in riot gear approaching the Supreme Court building. He tweeted, "Storm troopers on their way to tell women to shut up and accept government-mandated childbirth." "Sickening."
Maggie Rogers stated unequivocally, "abortion is healthcare." The right to bodily autonomy is a human right."
Hayley Kiyoko described herself as "sick to my stomach" after learning of the SCOTUS decision. "I know a lot of people are scared right now. "Terrorized doesn't even begin to describe how I felt," she wrote. "You are not by yourself. Please know that there are people in this world who will FIGHT LIKE HELL to reclaim our constitutional rights."
I am sick to my stomach. I know so many people are terrified right now. Terrified doesn't even express the pain. You are not alone. Please know you have people in this world that are going to FIGHT LIKE HELL to get our constitutional rights back.

— Hayley Kiyoko (@HayleyKiyoko) June 24, 2022
The Supreme Court ruled 6-3 on Friday that states can restrict or outright ban abortion at any point during a pregnancy, overturning the landmark 1973 decision that enshrined abortion rights in federal law, as well as a subsequent decision that affirmed those rights in 1991.
Please
Subscribe us at Google News